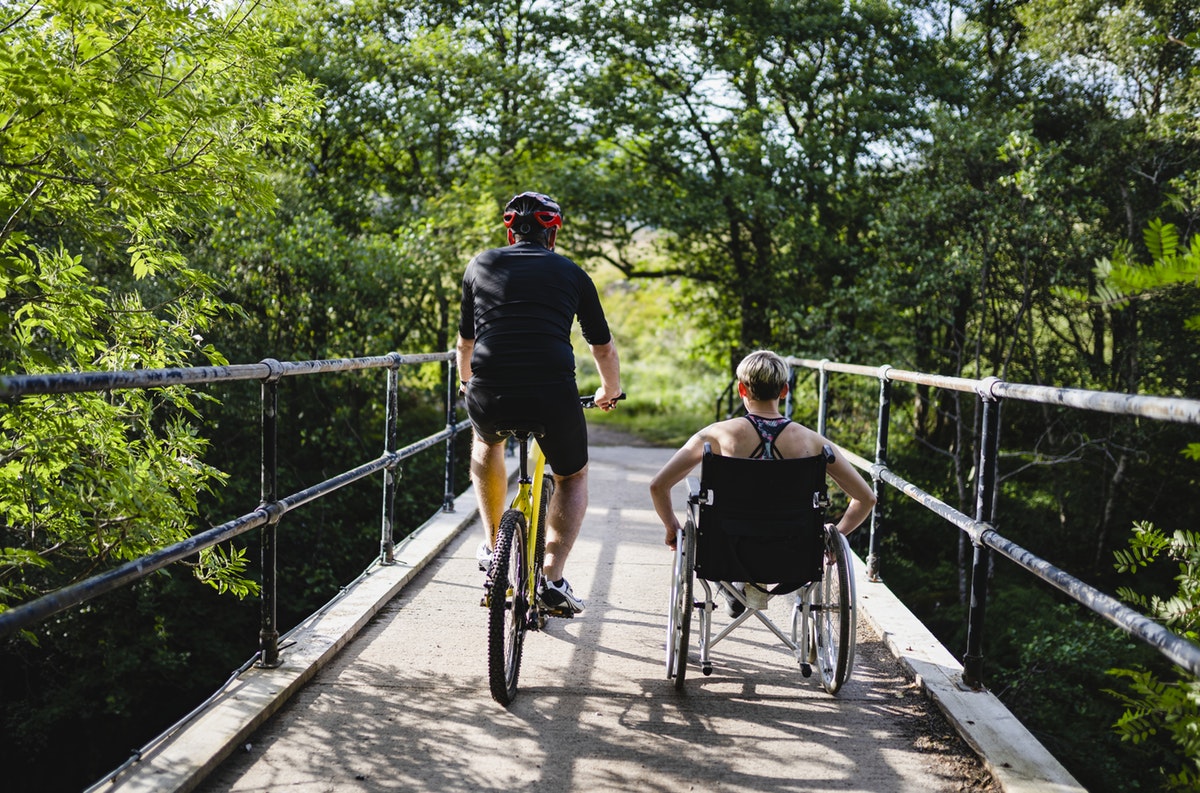 5 Great Ways for Wheelchair Users to Exercise
Everyone knows that regular exercise is important for overall health. Exercise is linked to many health benefits, both physical and mental. Staying active can decrease your risk of chronic disease and increase your life expectancy. Exercise also increases the production of endorphins, which can improve your mood and lower stress. Unfortunately, it's not always easy to exercise.
Sometimes it's hard to find time in our busy schedules or find the motivation after a long day. It is especially difficult for wheelchair users to find ways to get a good workout, as many forms of traditional exercise aren't practical. It is arguably even more important, though, for wheelchair users to exercise regularly compared to able-bodied people, because they aren't regularly using the muscles in the legs – the largest muscle groups in the body. This leaves wheelchair users susceptible to muscle atrophy, cardiovascular disease, pressure ulcers, and other health problems. The good news is, there are some great ways for wheelchair users to obtain the healthy exercise they need in a fun, accessible way.
5. Stretching
Flexibility is one of the most overlooked aspects of physical fitness. Flexibility and range of motion are especially important to wheelchair users, as stiffness in the knees, hips, and other joints and associated muscles is extremely common. The Miami Project to Cure Paralysis recommends stretching every day if you can. You should focus on the shoulders, hips, knees, and ankles, as these are common locations of tightness for wheelchair users. You might need help from a friend or family member, but it is important to stretch regularly and keep your flexibility up!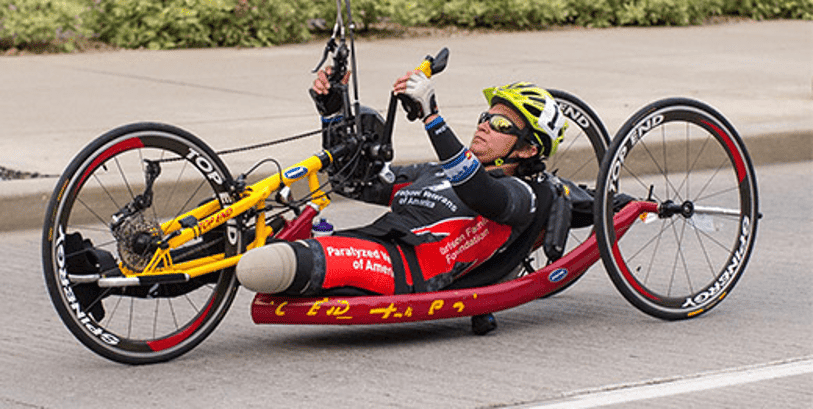 Photo Credit: www.PVA.org
4. Handcycling
Aerobic exercise is crucial to maintaining good overall health, specifically for combatting cardiovascular diseases. Hand cycling is an excellent way to get a great cardiovascular workout. Handcycling can be a fun way to get an outdoor aerobic exercise if you are willing to make the investment into a handcycle. Alternatively, many commercial gyms and fitness centers have stationary handcycles that can be used from a wheelchair. If you push yourself on a handcycle, you will be breathing heavy and your heart will be racing!
3. Weight Training
Strength training with free weights or cable machines is a great way to get a good workout and build or tone your muscles. If you have limited grip strength, you should look into getting some gripping gloves to help you hold onto the weights. Weight training is great because you can do it at your local gym or even from your own home if you have some dumbbells. Strength training is a convenient way to get a workout that will help you burn some calories, build some muscle, feel great, and look great.
2. Adaptive Sports
Adaptive sports are a great way to get a good workout, and it can also be really fun to compete as part of a team. There are many different adaptive sports and sporting leagues, but some of the most popular include wheelchair basketball (National Wheelchair Basketball Association), wheelchair rugby (US Quad Rugby Association), and wheelchair tennis. We previously wrote a blog post all about adaptive sports – check it out if you want to learn more! On a related note, MYOLYN will be at the National Veterans Wheelchair Games on July 30th, 2018 in Orlando, FL. If you are going to be there, stop by to say hi!
1. FES Cycling
For wheelchair users living with paralysis, cycling with functional electrical stimulation, or FES cycling is one of the only ways to obtain a lower-body workout. The electrical stimulation actually contracts the muscles, even if the rider is paralyzed, allowing them to get a cycling workout with their leg muscles. This has a plethora of health benefits including preventing or reversing muscle atrophy, increasing blood flow, increasing range of motion, and preventing muscle spasms. To learn more about how FES works or FES cycling at home, contact us to request more information about the MyoCycle!