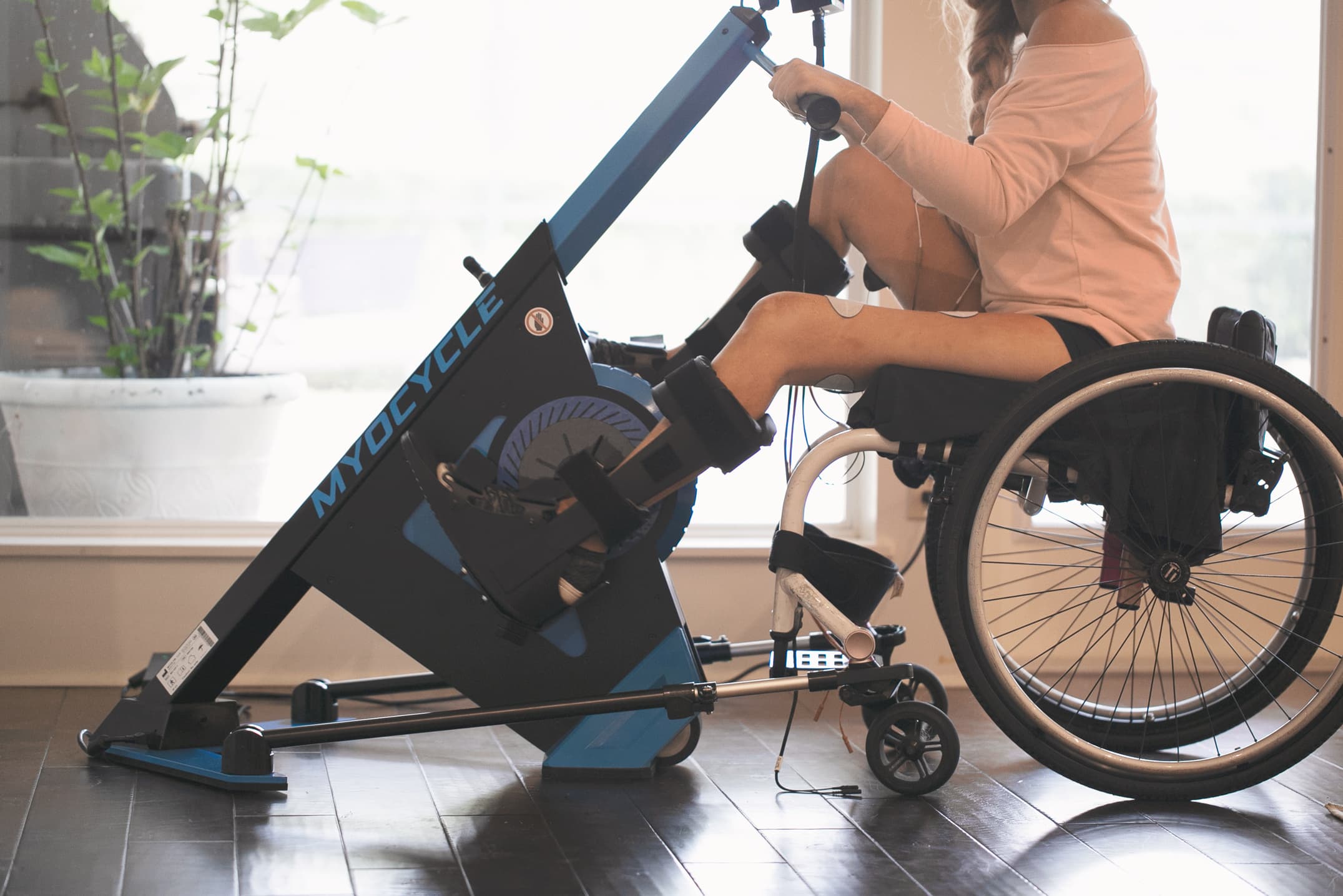 Metabolic Effects of FES Cycling for People with Spinal Cord Injury: MyoCycle vs. RT300
Clinical Research on FES Cycling for Spinal Cord Injuries
The University of Miami is currently conducting research on the effects that cycling with functional electrical stimulation (FES cycling) has on people with spinal cord injury. The research team, led by Mark Nash, PhD, FACSM, and his student, David McMillan, is interested in how energy expenditure and fuel partitioning, as well as cardiac output, are affected by FES-cycling exercise performed on two different FES bikes: the MyoCycle and the RT300.
So far, the team has completed experiments with four men with various levels of spinal cord injury, and the results were recently presented during a poster session at the American Spinal Injury Association (ASIA) conference in Albuquerque. The full poster is presented below, but the concluding points are as follows:
Moderate stimulation intensity FES cycling qualifies as "low intensity" aerobic exercise according to authoritative guidelines (aerobic effect similar to walking).
The MyoCycle relies less on carbohydrate fuels and more on fatty fuels at the selected moderate stimulation intensity.
The MyoCycle promotes a more extensive excessive post-exercise oxygen consumption (EPOC) for 30 minutes after termination of stimulation.
The greater gross mechanical efficiency (23.3% as opposed to only 16.7% from the RT300) observed for the MyoCycle may have implications for more substantial sparing of muscle fatigue accompanying FES cycling.
What do these results mean?
These are still preliminary results, but there are three key take-away points:
Both the MyoCycle and the RT300 can give people with spinal cord injury a good workout.
The unique characteristics of the MyoCycle cause some interesting positive effects not seen when using the RT300 (more fat burn and greater EPOC).
The MyoCycle is significantly more efficient than the RT300 (more cycling power output for the same amount of calories burned).
The research team also collected some interesting cardiac output data from the study, but these results won't be presented until the American College of Sports Medicine (ACSM) annual meeting at the end of the month.
MYOLYN is committed to supporting research into the benefits of FES for people with neurological disorders.
If you'd like to learn more about how the MyoCycle can help someone with paralysis to get a great workout, contact us.