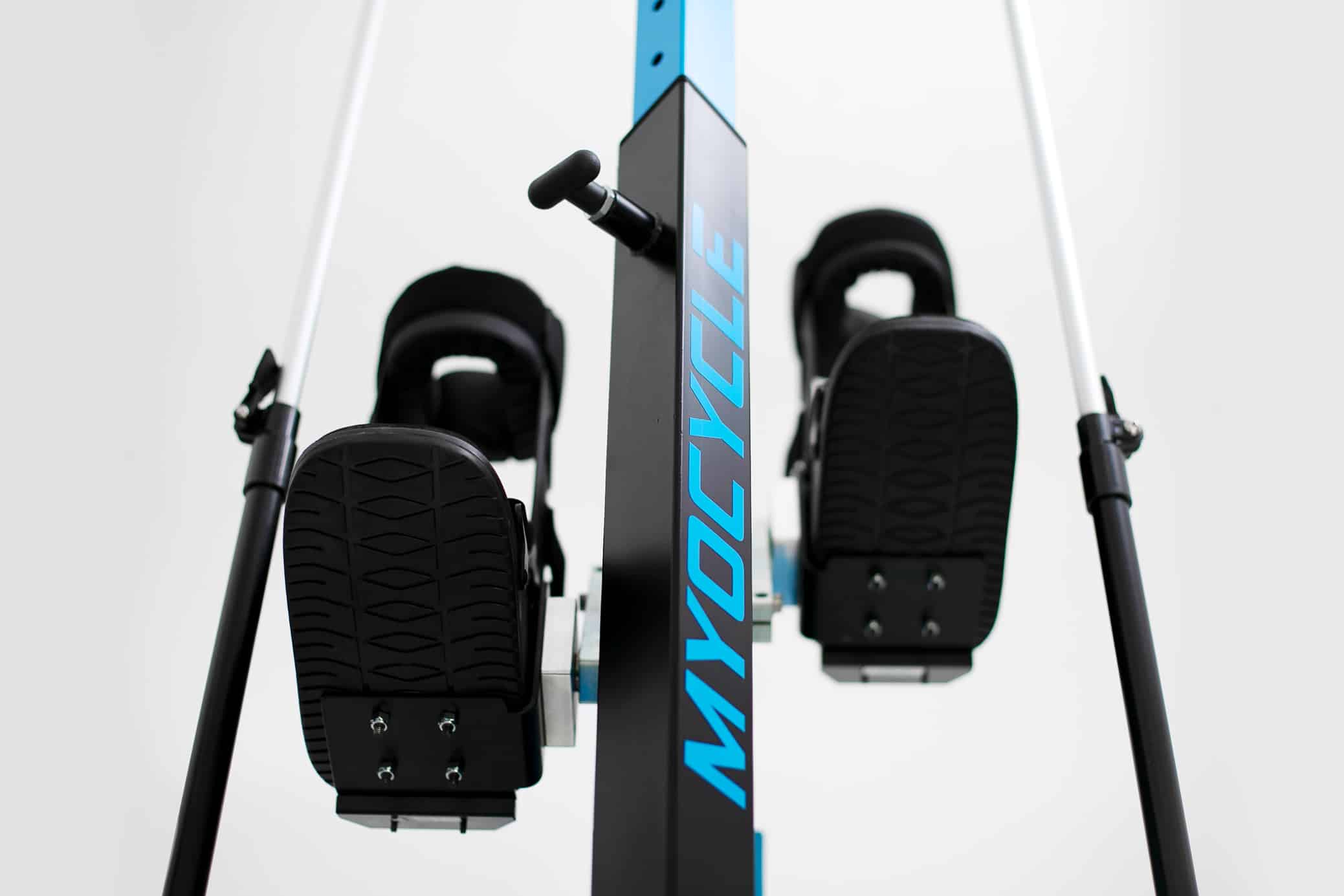 MYOLYN and YMCA Team Up to Provide Therapeutic Exercise to People with Disabilities
YMCA Receives New MyoCycle Therapy System to Help Locals with Disabilities
Gainesville, FL – December 27, 2017 – MYOLYN, a medical technology company dedicated to improving health and human performance, announced today that the YMCA in Batavia, NY has purchased the MyoCycle Pro FES cycling therapy system for its members with neurological disabilities.
The MyoCycle Pro uses Functional Electrical Stimulation (FES) technology to allow disabled individuals to exercise and maintain a healthier lifestyle.
"The MyoCycle Pro FES bike is essentially a stationary exercise cycle that someone who is paralyzed can use because it activates their muscles for them," says MYOLYN co-founder and CTO, Matt Bellman. "The result is a device that allows people with paralysis to achieve load-bearing exercise that is both therapeutic and enjoyable."
Ricky Palermo, 57, experienced a C5 spinal injury in a 1981 car accident. After his injury, he underwent rehabilitation at the Miami Project to Cure Paralysis. Since then, he has run an annual golf tournament in his hometown of Batavia, NY, as a fund-raiser for the Miami Project and two local hospitals and the YMCA. It was through a research project conducted by Mark Nash, PhD, FACSM, at the Miami Project that Palermo first heard about the MyoCycle.
In the past, Palermo donated his own FES bike to the Batavia YMCA for others to use. Two years ago, he proposed a new FES bike for the YMCA and raised money for the project, ultimately replacing the old one. This year, they decided that they needed a second FES bike to keep up with demand. Nash recommended that they get a MyoCycle, so Palermo and other YMCA patrons raised money to purchase a MyoCycle Pro. Palermo says they now have a group of five members who use the machines three days a week.
The reason they chose the MyoCycle was simple. "There aren't too many bikes like this, this is a unique FES bike…other FES cycles cost around $30,000. The MyoCycle is more advanced and less than half that [price]," Palermo says.
Megan Boring, Aquatics & Healthy Heart Coordinator at the Batavia YMCA says the MYOLYN technology makes the MyoCycle Pro the choice for a fitness center.
"One of the reasons the YMCA chose the MyoCycle Pro is that MYOLYN's technology offers a system that automatically customizes the FES for the individual patient, reducing the need for a trained specialist," she says. "It makes set-up and installation simple and affordable. It allows us to extend our core mission at the YMCA to provide a caring and inclusive place for everyone regardless of ability."
"One of MYOLYN's missions is making FES cycling technology available to all the people that can benefit from it," says Alan Hamlet, MYOLYN co-founder and CEO. "Working with the YMCA is a big step towards achieving that mission. Now that the GLOW YMCA has a MyoCycle FES cycling therapy system, people with disabilities from the community can obtain therapeutic exercise to help maintain their health and physical well-being."
The MyoCycle is intended for general rehabilitation for:
Relaxation of muscle spasms
Prevention of muscle atrophy
Increasing local blood circulation
Maintaining or increasing range of motion
The MyoCycle is especially beneficial for people with spinal cord injury, stroke, multiple sclerosis, Parkinson's disease, and cerebral palsy, as well as people undergoing orthopedic rehabilitation following knee or hip surgery.
Anyone interested in learning more about the MyoCycle and the team behind it should visit the MYOLYN website or contact the team at myolyn@myolyn.com
MYOLYN's vision is to improve health and human performance by empowering people to move. Located in Gainesville, FL, MYOLYN was founded in 2013 by founders Alan Hamlet and Matthew Bellman, both of whom received their Ph.D.'s in robotics from the University of Florida. MYOLYN uses its unique expertise in automation to develop electrical stimulation devices that are innovative, affordable, and easy-to-use.
As a branch of the GLOW YMCA, the Genesee County YMCA serves youth, teens, families, adults, and seniors in Genesee County. At the YMCA we welcome and support children and families and help build the values of caring, honesty, respect, and responsibility. The YMCA is here for everyone, people of all ages, races, religions, incomes, and abilities. The YMCA builds community and welcomes everyone regardless of their ability to pay.