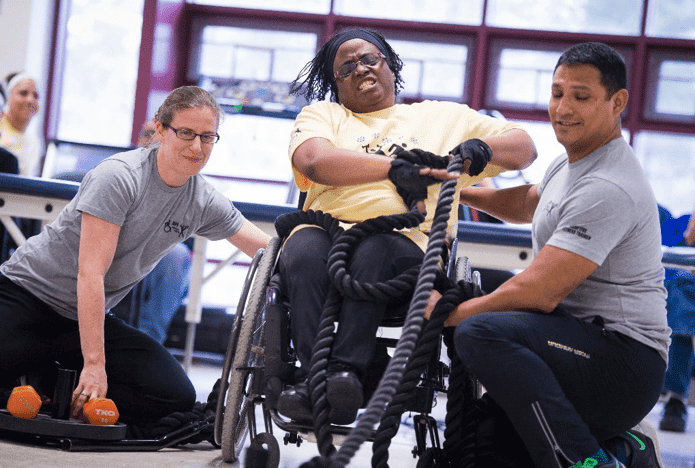 The Best Adaptive Fitness Equipment
What is the Best Adaptive Fitness Equipment?
By Devon Palermo LPTA, CPT
Adaptive Fitness Specialist, Owner of DPI Adaptive Fitness, and Author of DisAbility Fitness
I once wrote an article listing my recommendations for the best fitness equipment for individuals living with or recovering from disability. It was published on a popular fitness site that educates personal trainers. Years after I wrote this post, I received a message questioning my top pick for adaptive fitness equipment.
"Wrong! Get outside, get into an activity you enjoy!" This was the response to my selection of an FES bike for the top of my list (FES stands for functional electrical stimulation).
My initial thought was, "Ok, this person brings up a great point. I mean, activity is activity, and I want to encourage movement as much as possible." But as I continued to think about it, I felt more confident that my initial recommendation was valid.
Why do I believe that an FES bike is the best exercise equipment for someone with a disability to have at home? Because, as an adaptive fitness specialist, I work with individuals living with or recovering from spinal cord injury, stroke, and other neurologic conditions – conditions that can lead to muscle atrophy, bone deterioration, reduced range of motion and worse.
Activity is recommended for anyone living a sedentary lifestyle to keep your muscles active, your joints lubricated and your bones strong.
For many, getting on a regular walking or biking program is a great start, but for many of the great people that I work with, that's just not an option for them.
An FES bike like the MyoCycle (which we have in our gym) is an excellent way to help manage muscle atrophy through consistent activity, not to mention these other benefits:
relaxation of muscle spasms
increased local blood circulation
increased range of motion
Clinical research suggests that FES bikes can even improve neuroplastic recovery of function by focusing on movement with repetition.
So, to the author of that message I received some time ago, I would have to say that I definitely agree with you! Get outside, find an activity you enjoy. But I will also say that if you are looking to manage atrophy or work on neural return, then I stand behind my recommendation for the population that I consistently work with. An FES bike is my top choice for adaptive fitness equipment in the gym or at home, and the MyoCycle is my top choice for FES bike.