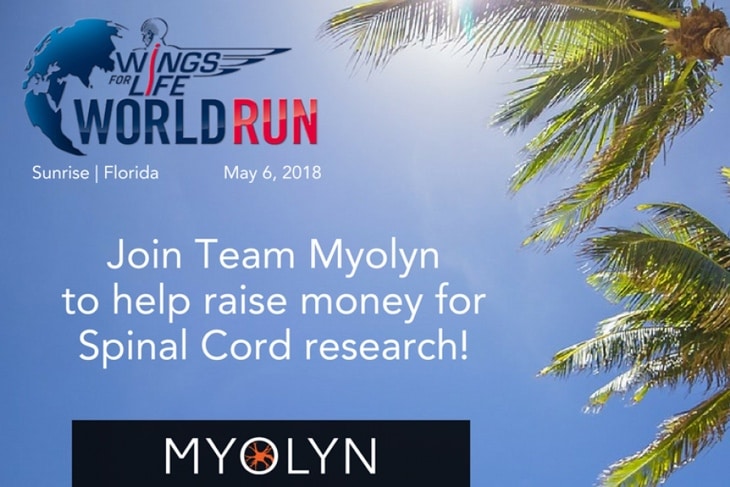 MYOLYN Supports Spinal Cord Injury Research with the Wings for Life World Run
MYOLYN Joins the Wings for Life World Run
The Wings for Life World Run is a unique and fun charity event that happens once a year where people all around the world run together to raise money for Spinal Cord Injury research. 100% of donations go directly toward this vital spinal cord research.
What makes this charity event so unique is that… it happens in different locations across the planet at the same exact time.
Whether it is day or night, the event happens at the same moment, in every location, so that all runners are basically running together around the world, sharing an amazing bonding experience.
Additionally, just like there is currently no end to spinal cord injury, the Wings for Life World Run has no end. The race doesn't have a finish line, instead, a 'Catcher Car' chases runners 30 minutes after the race starts, gradually getting faster until it catches up to everyone. It is a fun way to raise money to help finally put an end to spinal cord injury with research for a cure.
It is an amazing experience for anyone who wants to be a part of something greater than themselves! And this year MYOLYN is proud to announce that we will be participating in the Wings for Life World Run to help raise money to go toward cutting-edge research for a cure for spinal cord injuries and to increase awareness of the prevalence of spinal cord injury and paralysis.
MYOLYN was founded with a mission of improving the health, mobility, and quality of life of those living with paralysis, so we are very excited to have the opportunity to run for those who can't and hope that you too will join the cause!
No matter your circumstances, life can be fun and enjoyable. Thank you for your support!